An Adventure Beyond Time Begins!
Hello, dear Captains.

Here are the details of Improvements to Invasion.

1. Changes to the Invasion Schedule
The start and end times for Invasion will be adjusted.
- Current Schedule: 00:00 UTC, Friday – 23:59 UTC, Sunday
- New Schedule: 13:00 UTC, Thursday – 12:59 UTC, Sunday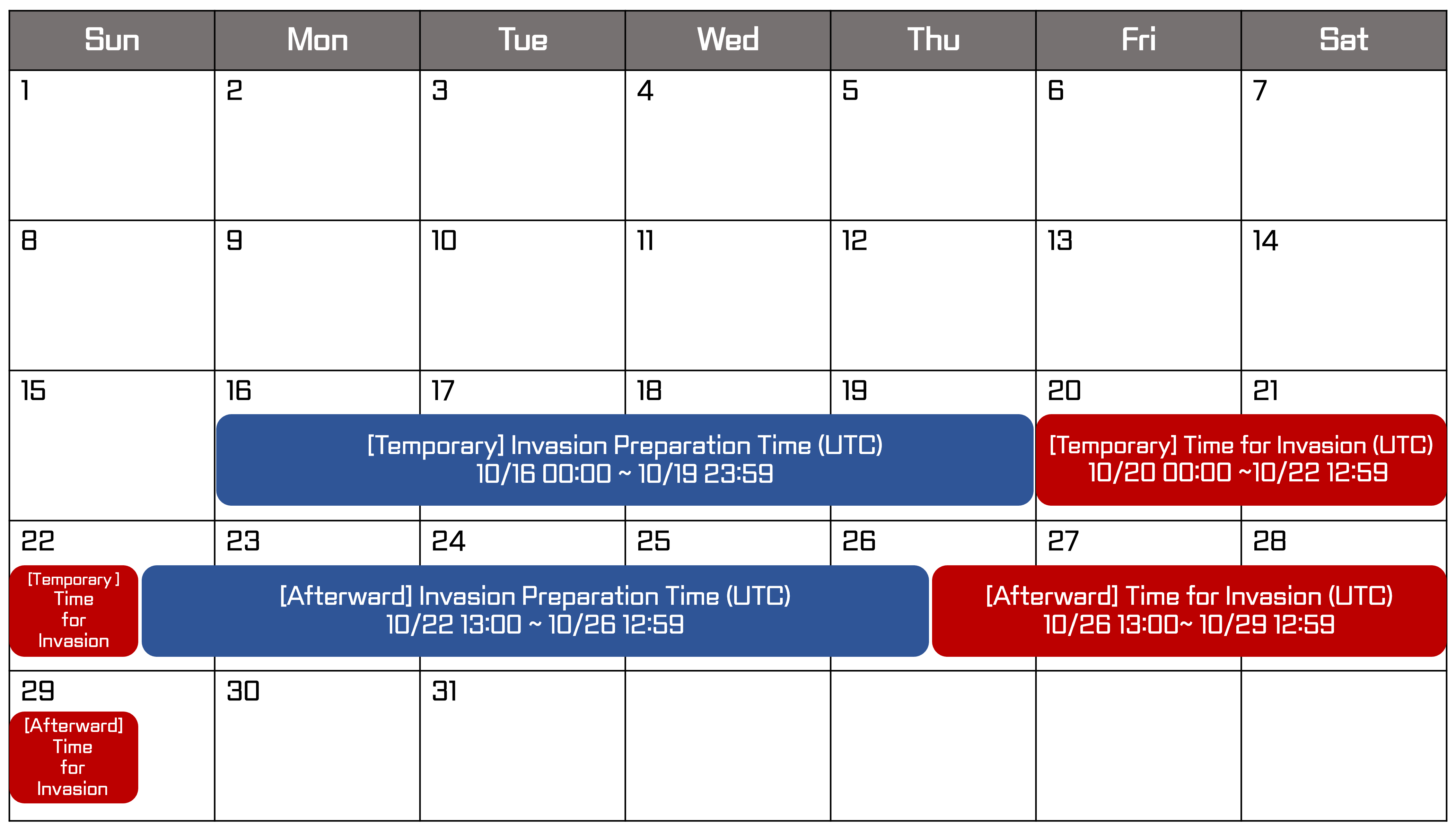 ※ The adjusted Invasion schedule will be relatively shorter for this update.

2. Changes to Matchmaking
Unions signing up for Invasion will be divided into four groups based on their Unified Invasion Rankings.
- Group 1 > 20 Unions
- Group 2 > 80 Unions
- Group 3 > 200 Unions
- Group 4 > All remaining Unions
1) These groups will be arranged from the highest to the lowest rankings.
2) Unions will be matched randomly within their respective groups.
※ Rankings will be temporarily determined by the Union's Combat Power and the number of members participating only during the adjustment period for Invasion. Afterwards, all rankings will be based on Unified Invasion Rankings.

3. Unified Ranking Rewards Added
In addition to the victory rewards for Invasion, players will receive rewards based on unified rankings.
1) Unified Ranking Rewards
- 1st, 2nd, 3rd > Rank-specific rewards
- 4th – 20th > Group reward
- 21st – 50th > Group reward
- 51st – 100th > Group reward
- 101st – 200th > Group reward
- 201st and below > Group reward
※ If an Invasion ends in a tie, all tied Unions will receive the same reward.
2) Invasion Score - Score is summed up using the existing rules as a basis
<Invasion Score Rules>
The total score is the sum of the basic score and extra score.
* Basic Score
- Occupied territory: 2 points
*Extra Score
- Territory that is surrounded by ally territory: 1 point
- Your territory that is connected to your Union's base: 1 point
3) Group Ranking Points



4) Capture Attempt Points
- Attempt to capture enemy territory > 2 points
- Attempt to capture neutral territory > 1 point
5) Union Participation Points
- 5 points for each Union member

4. Unified Invasion Rankings Added
Unified Invasion Rankings is a new ranking system, updated after Invasion has concluded. This will serve as the benchmark for matchmaking and help determine unified ranking rewards.
1) Rankings will be based on group points, territory capture attempts, capture points, participation and more.
2) Only Unions that participated in the previous week's Invasion will be ranked. Rankings will refresh after Invasion is over.

5. Invasion Location Tags Function Added
Union Captains and Quartermasters will have access to location tags which will allow them to strategically guide Union members.
1) Location Tag Types
- Attack, Defense, Move
※ Tags will appear at the top of the minimap for Union Captains and Quartermasters.
※ Use the reset button at the top of the minimap to clear all tags.

6. Invasion Result Screen Changed
A new overview will be displayed at the end of Invasion. Players will be able to see the minimap, Union capture points, Union ranking rewards, and Unified ranking rewards in one view.

7. Miscellaneous
1) An autosave feature for Invasion team composition will be introduced.
2) Players will be able to tap the minimap to shift their point of view.

We will do our best to provide a better gaming environment.

Thank you.